USS TARAWA LHA-1 Eagle of the Sea
---
USS Tarawa LHA-1 Reunion August 3-7, 2020 in Las Vegas

Itís that time again, folks, the
2020 USS TARAWA Reunion
at Samís Town in beautiful Las Vegas, Nevada. This yearís Reunion will be
August 3 (arrival date) to August 7 (departure date)
. since we have hosted our Reunion with them for so long, they are extending the room rates from Sunday August 2 to Sunday August 9 for those of you who want to come in early and stay later than the Reunion. This year we will do a repeat of last time, a little informal, no FORMAL dinner is planned. It will be just Shipmates getting together, enjoying each other's company, swapping sea stories, and relaxing in one of the most exciting cities in the Nation. More info will come, but the Opening and Closing Dinner Events will be at TGI Fridays in their Private Room, ordering off their normal menu. Last time they hosted us, it was a HUGE success and everyone has very pleased.
Rooms have been blocked out for us for $39.00 + $15.99 Resort Fee + $7.15 tax per room/per night, for a total of $62.14 per night. You can call and make your reservations now using the Group Name USS TARAWA and the Group Code AUS0C08 at the Hotelís website at www.samstownlv.com/groups, or by calling their toll-free number (877-593-5993) and identifying yourself as members of a group using the Group Name and Group Code above.
The Plan Of The Day will be coming shortly, but as requested at the last Reunion, we will be enjoying the Mob Museum for a full day. We will take our time going through the Museum (really, it is an all-day tour), take a break for lunch, and go back to finish the rest of the tour. The break will be at lunch time and we will walk to a local eatery (most of the folks mentioned the Pizza restaurant near the Museum), and then return and finish the rest of the museum exhibit, stopping at the new Speakeasy (think Prohibition era) that recently opened in the basement of the building. If we are lucky, we may get access to the double-secret Lounge in the Speakeasy. FYI, they make their own Moonshine in the basement, and you can get a free sample. Or buy a bottle if you desire.
Iím still negotiating a Top Gun Shooting Event at an Outdoor Range. We will have a shooting competition much like the previous competitions. If approved by the Range, we will have access to a Long Range (up to 960 yards) shooting using 2 different long range rifles. While these are not near the Military Sniper Rifle type, they are a lot of fun to shoot. If not, we will have a handgun competition at the Range at the normal 20-25 yards as we have had in the past and possibly a 100 yard Fun Shoot using Ruger Precision Rimfire Rifles chambered in .22Long Rifle. Details will come as we get closer to the event.
In the event the Top Gun Event is a wash, we will try to arrange a trip to the Neon Museum/Boneyard. It is located near the Mob Museum and shuttle services will be provided to the general area. A little bit of walking will be involved, more details to follow in early March 2020.
To help with room management and other event planning, please let me know you will be attending by emailing me.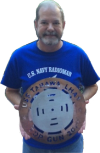 Top Gun Steve Stanfill
You are one of 131441 to have virtually visited The OFFICIAL Website of Tarawa Reunion.
---
---
---