USS TARAWA LHA-1 Eagle of the Sea
---
USS Tarawa LHA-1 Reunion August 3-7, 2020 in Las Vegas

In light of the COVID-19 Pandemic, Social Distancing mandates, requirements for the use of Masks, and civil unrest in the Las Vegas area, and with input from a few Shipmates, the
2020 USS TARAWA Reunion
is
CANCELLED
.
If you made reservations, please contact Samís Town immediately to get a refund.
Iím currently looking at the idea of holding the next Reunion next year (August 2021). As we get closer to the end of this year, I will reevaluate the situation. If the world has recovered from this "mess", I will book the hotel again. So, basically we are going to delay the Reunion 1 year.
Please cancel any reservations you made as soon as possible to prevent losing any deposits you have made.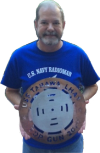 Top Gun Steve Stanfill
You are one of 135065 to have virtually visited The OFFICIAL Website of Tarawa Reunion.
---
---
---